SHARP and Harry Rosen
As editor of SHARP, it's time to confess: I only have one and only one costume. I recently tried this combination (for the first time since the pandemic began) in anticipation of a busy summer ahead. It didn't fit – at all. As I tried to fasten the suit jacket, I could feel the buttons creak, ready to pop and fly across the room. The pants were gripping my thighs in all the wrong ways. But the pencil legs and waify silhouette didn't just cut off circulation to my limbs, they felt totally misaligned with my everyday wardrobe full of boxy shirts and baggy pants. Even though I could fit into this costume, I didn't feel like me.
So when I arrived at Harry Rosen's flagship store, Bloor Street, earlier this month to try out the brand's new custom clothing programme, I arrived with one thing in mind: I needed a suit.
After more than a year in development, HAROLD is the first bespoke private label in Harry Rosen's history, offering a range of ready-to-wear and bespoke clothing designed to complement your wardrobe. What really sets it apart, however, is the focus on customization. HAROLD encourages Canadian men to bring their own ideas and inspiration to the bespoke manufacturing process, while being guided through the sometimes murky and daunting waters of tailoring by Harry Rosen's team of garment advisors.
Adam Percival, a 23-year-old Harry Rosen veteran who now runs the brand's bespoke programme, was waiting for me in the HAROLD showroom above Bloor Street. As we shook hands, a gold bracelet designed to look like a cloth tape measure popped out from under his shirt sleeve. Draped around his neck was the real thing.
I'd come prepared too, armed with an iPhone folder full of reference images and some practical requirements. Most important: I needed something classic enough to suit a wide range of occasions, yet I also didn't want something that looked like a suit that would only be worn once or twice. per year. I wanted a jacket that could be separated from the pants – perhaps to wear to dinner with a pair of faded black jeans and black shoes – and some subtle flair, like a slightly higher waist than normal and a silhouette more relaxed.
I barely needed to explain anything to Adam before he remarked, "I noticed that the jeans you're wearing are a little on the generous side." Is this how you usually like your clothes to fit? I nodded. "I would love to see you in something that's sort of a natural, relaxed fit that you can dress up or down," he said. Bingo.
I donned a navy blue suit and a dress shirt with a half cutaway collar that would serve as a rough canvas to gauge the fit. Adam got to work, pinching fabrics, stretching his measuring tape over my chest and down my limbs, scribbling numbers on a sheet of paper. "It's really to help guide the decision on fit, to help me understand how you like your clothes to fit," Adam said.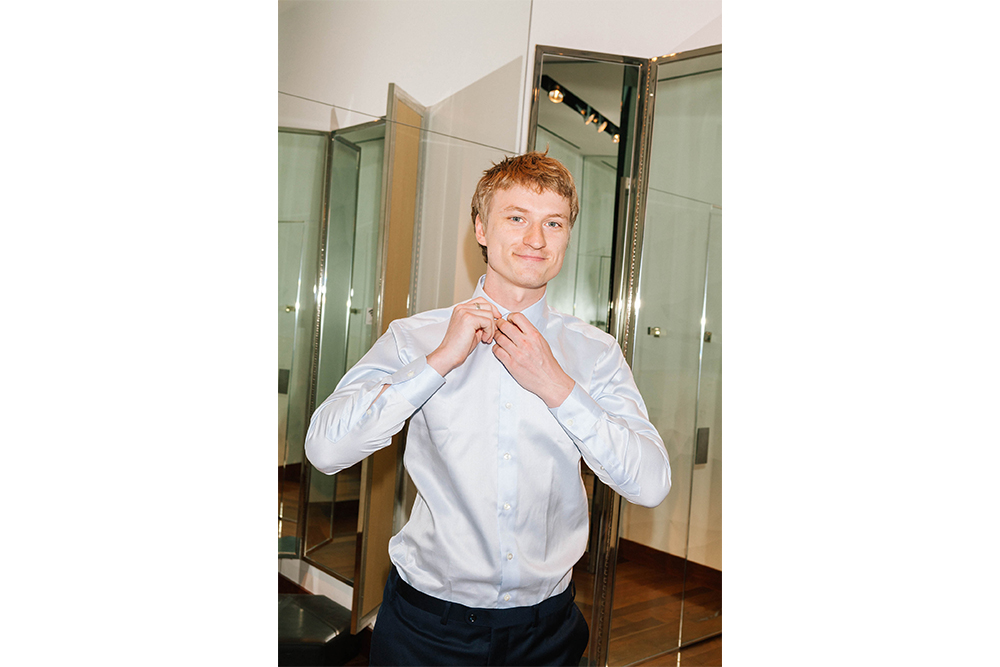 As we stood in front of a mirror to appraise the suit, Adam pointed out that my shoulders, like most people, aren't on the same level. In fact, my right shoulder is slightly lower than the left, which means if I were to buy a standard suit, its lapels and buttonholes would never line up perfectly. "But we can [plan for] that in the model," he explained. It was just one of many seemingly minor adjustments with major value. Among the long list of changes we agreed on: lengthen the torso, lengthen the sleeves, tuck in the waist (just enough to see a glimmer of daylight between my arms and my torso), let the pants hang out around the thighs and hips, and push the waist slightly higher.
Adam didn't tell me what to do or what to do should As. Instead, he was inspired by my tastes and reacted accordingly – and, thankfully, he was there to guide me when I needed professional advice, such as when choosing a fabric from a sea of ​​fabrics. seemingly endless samples.
At HAROLD there are a lot of binders: binders full of buttons, binders full of tracksuit cords and binders full of suit and shirt fabrics. "How many are there?" I asked. "Certainly hundreds. Almost thousands, once you make it [all the] different permutations here," Adam said. Lest I be paralyzed by choice, Adam started pulling out a handful of favorites — mostly navy blues — that would suit the kinds of occasions I'm likely to encounter in my early 30s.
For a while I fell in love with a windowpane pattern with subtle brown stripes, drawn to the prospect of something a little bolder and showier than I was used to. "It might be a little limiting," Adam warned me, aware that this was to be my all-purpose costume. I knew he was right. Instead, we've opted for a beautiful navy plaid pattern – a beautiful pattern that reads like a solid from a distance but offers a bit of visual intrigue and texture up close. "[It's] very easy to work with; to dress up or dress down in the casual, deconstructed style we do. You can still wear it as a separate jacket; it could easily go with black pants or black jeans," Adam said.
While this fabric is certainly more classic than bold, a particularly fun part of the HAROLD process is that customers can customize the inside linings of the jackets. In fact, Harry Rosen's own President and COO, Ian Rosen, recently had his own jacket lined with images of vintage Harry Rosen advertisements dating back decades. Although I didn't go that far, I had a little fun opting for a blue camo liner. Definitely not what I expected to like, but somehow it works.
The rest of the costume is a similar balance of classic details and contemporary styling. We've chosen notched lapels on the toe, double rear vents and unstructured shoulders that are light on the padding. "You will notice that the weight is taken off the jacket. It will look more like a cardigan than a suit," Adam said.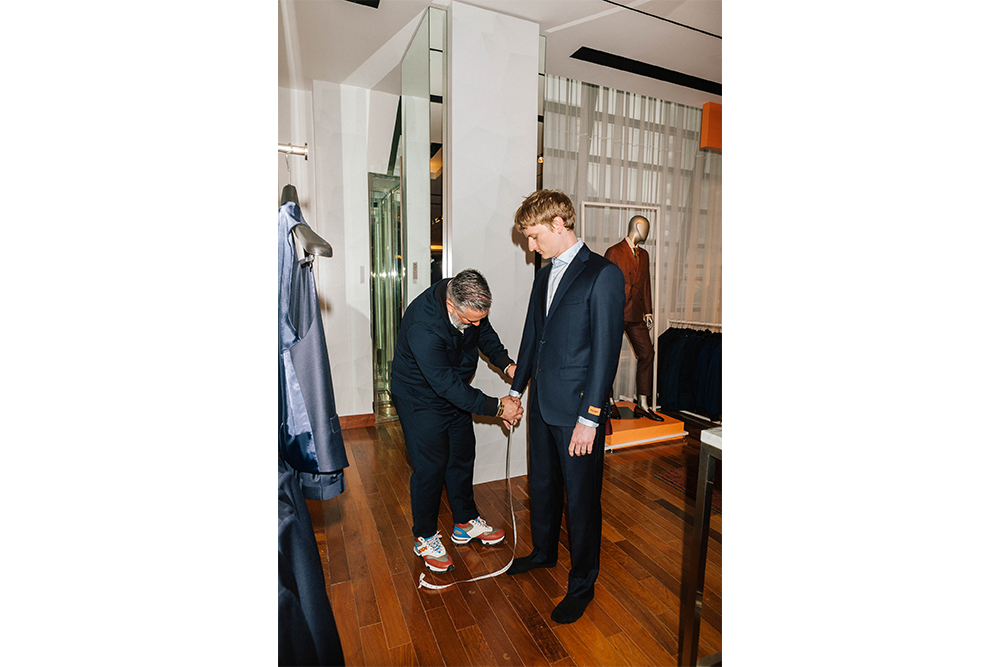 We've also added a money pocket, which I learned is a smaller pocket stacked directly above the larger right hip pocket – less functional than it is fashionable. "You don't see them much in ready-to-wear, which kind of means it's personalized. It could be a cool finishing detail that gives [the suit] just a small advantage. On the pants, we've replaced the belt loops with side adjusters, allowing me to go without a belt, a look that's becoming increasingly common at fashion weeks all over the world.
And that was it. "Deal done," Adam said, closing the binder full of buttons after making a selection, the final leg of our nearly hour-long date.
Now my new costume is sewn just for me. Once it's ready in a few weeks, it'll be pretty perfect, I'm told, just needing a little tweaking. And while my fabric choice might be understated (and exactly what I need), I'm particularly enthusiastic about the relaxed shape, unconstructed shoulders, slightly higher than normal waistband – all thanks to Adam's expertise and his ability to draw inspiration from what I liked and what I wear every day. Finally: a costume that not only suits me but suits me much better As Me too. And I think it's time I got more than one.
Read more about HAROLD at Harry Rosen here.
Photography: Aaron Wynia