Photo: Sazzad Ibn Sayed
">
Photo: Sazzad Ibn Sayed
Upcycling is taking something that is no longer in use and giving it a second life and a new function. By doing so, the finished product often becomes more practical, valuable and beautiful than it was before. While recycling involves destroying waste in order to create something new, upcycling creates something new from it in its current state.
The interiors of my whole house rely on second-hand, discarded furniture. The first time I took possession of a separate place, I had nothing to decorate it with. To set up my house, my father and uncles gave me their furniture that was no longer in use, and so far these second-hand items have served me well. I turned a wooden chest into a center table; I repurposed my mother-in-law's old chairs as sofas; an old dining table has found new life in my home.
For all the latest news, follow the Daily Star's Google News channel.
Photo: Sazzad Ibn Sayed
">
Photo: Sazzad Ibn Sayed
In the mid 90's when my grandmother's house was sold to developers, all the furniture in this beautiful old house was sold haphazardly. I took two mahogany wood shelves, painted them white, changed the broken glass and made them into a shelf for storing ceramics and crockery.
I turned an old freestanding sewing machine into a side table and decorated it with plants and memorabilia collected over the years; I got my hands on two tiny toddler school chairs and turned them into side tables. A vintage steam iron with a case has been polished and painted in rickshaw art and now it's one of my favorite decor pieces. Broken teacups are my floating planters or candle holders that I use to decorate party tables.
My most recent acquisition is once again my grandparents' furniture that was at my aunt's as a family heirloom. Unfortunately, after my aunt passed away, her whole house was inherited by us, nieces and nephews. My aunt's only son died in infancy and my uncle was also no longer with us. She had beautiful old furniture; one was a vintage dresser.
Passionate about antiques, I have always had my eyes on it. I even asked my aunt to sell it to me while she was alive. She always held me back saying it was mine once she was gone.
Photo: Sazzad Ibn Sayed
">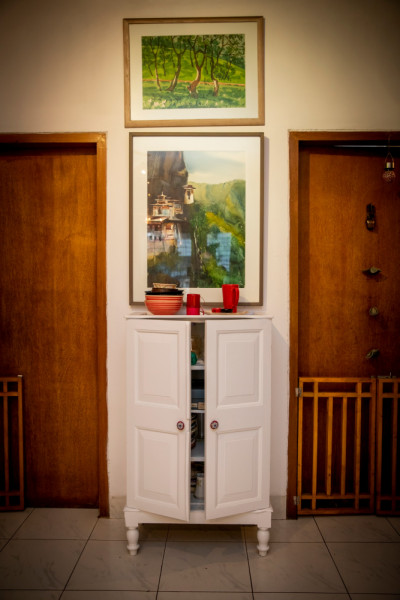 Photo: Sazzad Ibn Sayed
Amidst tears of sadness, I retrieved my vintage chest of drawers and cherish it as if my life depended on it. I've turned it into a tea bar when hosting parties, a dessert station when I have guests over, and a houseplant station on normal occasions.
I love to play with; the small drawers have new vintage-looking ceramic supports, I haven't changed the polish on the mahogany wood, and any scratches on them get a new polish from time to time. I cherish it with everything I have. It has become the centerpiece of my little house. Turning it into a tea bar is one of the coolest ideas that have ever occurred to me. I like to see my tea cups and tea strainers, my kettles displayed on it. It's like I was playing doll with it.
There's a certain gratification I don't get with newly purchased things. And now, with the guilt of global warming hanging over our heads, I think upcycling is the most sensible path.