Politics is never far from the Archibald Prize, but it's often that nebulous strain called "art politics." This year, with the winner announced in the middle of a federal election campaign, it was always going to be difficult to keep the attention focused on the aesthetic.
Blak Douglas, born Adam Douglas Hill, turned out to be the man of the occasion. He used the Winner's Platform podium to tell us his views on who should lead the country. "It is time", he announced, "for a Prime Minister of Albo origin."
One wonders how many trustees, who bestowed the award on Douglas, would approve of his policy choices. These are the same administrators who chose not to hang Zoe Young's portrait of the teal contestant, Allegra Spender and her sister, relegating the photo to the Salon des Refusés. They will say it was purely a matter of quality, but Spender's double portrait is surely superior to most of the works that made the final hanging.
Douglas's subject, Karla Dickens, has recently become a favorite of the gallery, being one of the chosen few to have been asked to undertake a commission to be permanently installed on the facade of the existing building.
Loading
To be frank, the administrators had few alternatives. Moby-Dickens of Blak Douglas was the most striking photo of the series. Other portraits may be more subtle or technically proficient, but nothing else has comparable impact or ticks as many boxes. If the Archibald has profound cultural value, beyond its enduring status as public entertainment, it is as a reflection of the changing face of Australian society, with all the problems, issues and conflicts that this entails.
Moby-Dickens shows Dickens, up to his shins in brown, the flood waters of Lismore, holding a bucket in each hand. She looks genuinely grumpy, like anyone who's battled the floods and witnessed the government's slow and ineffective responses firsthand. If Scott Morrison is removed from office on May 21, a major contributing factor will be how he has responded to natural disasters such as bushfires and floods. The Prime Minister may claim to have done wonders for the citizens of Lismore, but those citizens do not believe his story.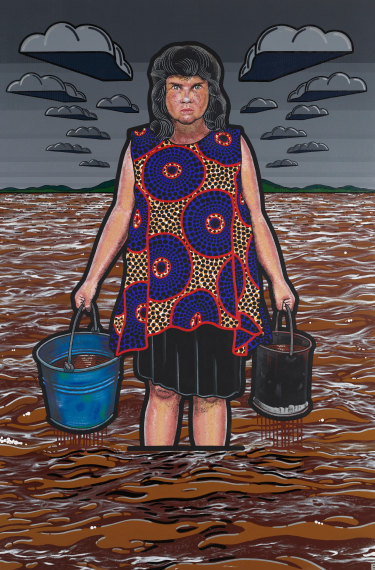 There's no ambiguity as to how Blak Douglas and Karla Dickens will vote, and it was exciting – in a slightly cheeky way – to hear those opinions expressed so freely from the winner's podium in front of a media scrum that would be any politician's dearest fantasy.